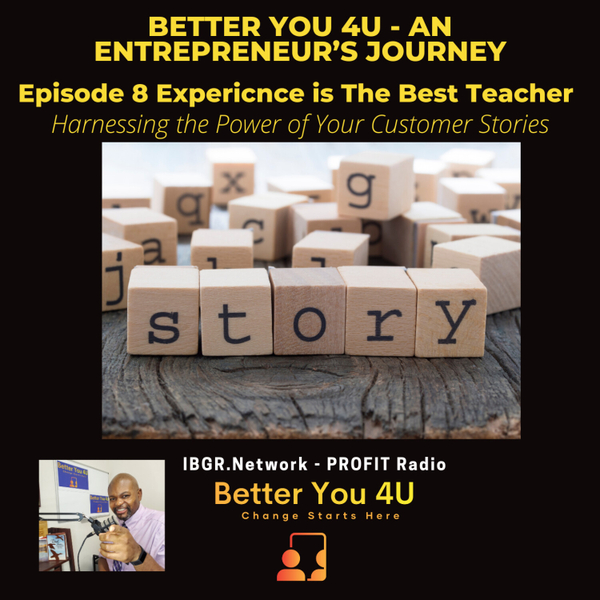 INTRODUCTION
Who is in the best position to talk about your product, your promise, and the transformation that it provides? Are you the best person to talk about your products and services? What if you had people who used your products tell the story of how your product changed their life!  The experiences of the people that use your products and services build a strong narrative about your brand. Today we are going to learn how to unleash your customer stories to talk about your products and services.
Episode Objectives - The Why
Using your real-life customers to tell their story is one of the most powerful tools you can use to connect with new potential customers. The objective of this episode is to equip you with the tools that you need to unleash the power of your customer's stories. 
Key Issues - Owner Perspective:
Customer engagement takes time and is worth the effort.
The community that you build provides a foundation for future growth.
Negative feedback is fuel for innovation.
What You Need to Know - The What
There are many ways to engage your customers. The tools that you use engage your customers will depend heavily on what you are trying to accomplish. 
1. What are you trying to accomplish?
Product Testing
Product Review
Market research for new product
Increasing sales
Increasing clicks on website
Increase traffic to website.
Get more people into your sales funnel.
2. Sample Customer Engagement Tools
Surveys
Reviews
Referrals
Testimonials
Customer Stories
3. The difference between a Testimonial and a Customer's Story
 4. The elements of a customer's story
 What You Need to Do - The How
1. Determine what type of customer engagement will work the best for your intended purpose. 
What issue are you trying to address in your sales process?
Are you trying to overcome a specific objection that a potential customer may have?
Do you want to highlight your customer's real-life transformation because of using your product?
Feedback for new product development
Feedback for further market penetration
2. Include points within your process to specifically ask for the type of feedback that you want.
If you want your customers to provide a review, then you must insert that "ask" into your process. Maybe this is a follow-up email campaign a few days after the product is delivered.
You can ask for Video reviews and offer some time of incentive for those customers that submit a timely review.
Just having a reviews section on your website is not enough. You must make the "ask."
3. Help you customer provide the type of feedback that you are looking for by structuring the right questions.
If you are looking to build stories, then you must ask more than yes or no questions.
Examples:
Describe how receiving the product in the mail make you feel?
What was your initial impression of the product?
You have a lot of choices on what you can purchase, why did you purchase this product?
Please choose one word to describe how using this product made you feel? Describe why you chose that word.
4. Find ways to use your customer stories in marketing materials.
Website
Emails
Brochures
Videos
 5. Always look to leverage what your customers have to say into ways to improve.
This is not just applicable to things that are under performing. You may find the feedback useful in identifying those things that you need to start doing more of.
Links and Resources
1. Webinars:
2. IBGR – Profit Radio
DOWNLOAD the IBGR Growth App
3. Subscribe to the podcast: 
https://podcast.betteryou4u.com/
 LinkedIn:           https://www.linkedin.com/in/jbryant2/
Business Made Simple: 
 https://www.hireacoach.com/James-Bryant
Better You 4U - An Entrepreneur's Journey
Listen to James LIVE by downloading the IBGR Business Growth Radio App for Android and iOS and gain access to even more great resources. Find the IBGR Business Growth Radio App on Google Play and in the Apple App Store.